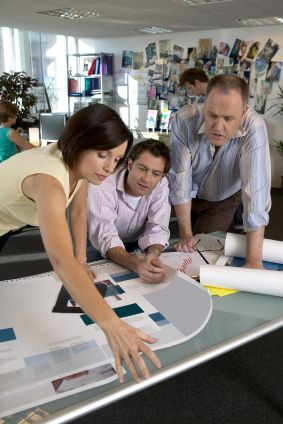 We love what we do. The passion we have for our work enables us to take ownership of our clients' projects. We constantly strive to deliver the highest-quality products possible.
There is no greater satisfaction than delivering a finished product that helps a client reach their goals and objectives.
Our Mission And Promise To You
Our mission is to provide you with the highest-quality products and services possible in a timely fashion and at a competitive price. We promise to listen to you and help you achieve your business goals. We will always be there with honest, expert advice and quick, friendly customer service.
Our goal is to meet and exceed your expectations.
Guiding Principles
All Ways Graphics is a full service print and graphics communications business. Quite simply, our staff simply aims to please. Always Ontime, Always Right, All Ways Graphics.
Owner, Chuck Stone, has been a leader in Wilmington's printing business community since 1991. His high standards and commitment to customer solutions, have always placed him on the leading edge of technology. At All Ways Graphics, we understand our investment in technology generally ends up saving money for our clients by improving overall efficiences.
As a result, All Ways Graphics has earned a reliable reputation for customer service and high quality printing. We enjoy long-lasting and prosperous relationships with client partners by helping them reach their goals and objectives. We're proud of the strong roots we've built in our community.
Call on us; we're eager to be a complete source for all of your business communications needs.
Commitment to Quality
At All Ways Graphics, quality is extremely important to us. We know that our reputation is only as good as the last job we perform for our customers, so we strive for perfection. Through adherence to ISO 9002 principles, we work hard to make sure every job is done right the first time, on time.
We track each job through the stages of production with our Quality Assurance cards and our customers get the final word in the comments section. The comments are analyzed monthly to register customer approval rates, as are the statistics for our on time/late records and our monthly occurrence and cost of redos and nonconformances.
Tracking these numbers allows us to perform root cause analysis when something goes wrong, so as to avoid the problem in the future, and also to improve the ongoing training of our staff.
All these practices help keep our on time percentage high and our redo rates low. (Historically 98% and 1.5% respectively.) We welcome any questions or comments about our commitment to quality.
SATISFACTION GUARANTEE
Your satisfaction is our highest priority. If we failed to follow your written instructions, or you are not satisfied with the quality of our work, we will correct the problem to your satisfaction - even to the point of redoing your job free of charge!