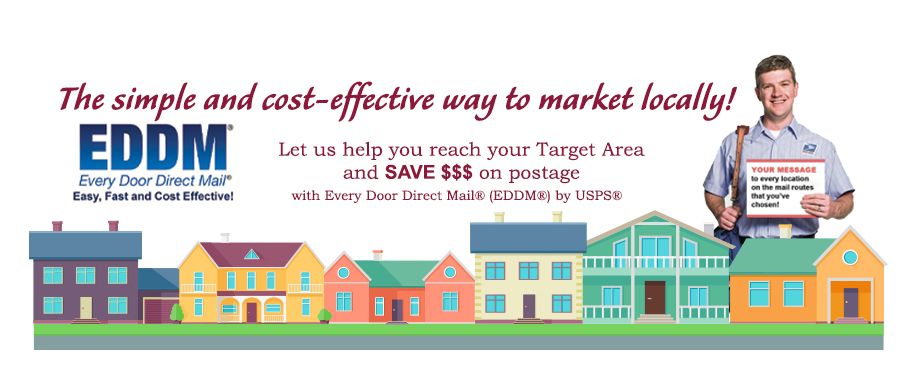 Let All Ways Graphics help you reach your Target Area and SAVE $$$ on postage. 
With Every Door Direct Mail® (EDDM®) by USPS® you can map your marketing mail audience by age, income, or household size.
You can use the EDDM mapping tool to choose the ZIP Code™ and carrier route that will target your best possible customers—current and future. The EDDM mapping tool is easy to use and discounts are available even for small businesses.  Visit our website (image clickable to our EDDM page which should have a clickable link to USPS Mapping Tool) to learn more!
Price – USPS Marketing Mail® Flats up to 3.3 oz               EDDM Retail® USPS Marketing Flats $0.187 per piece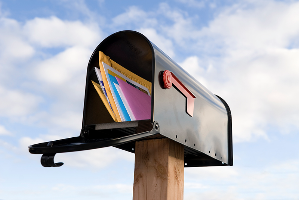 FIND THE CUSTOMERS THAT MATTER MOST
With Every Door Direct Mail© service, your business can reach every home, every address, every time. You simply select the neighborhoods you want to target, and a Postal Service™ Letter Carrier delivers your mail piece with the day's mail. You don't even need to know names or street addresses.
What are the benefits of Every Door Direct Mail service?
Every Door Direct Mail gives your business a cost-effective way to saturate a localized area and get your marketing messages directly into the hands of consumers. It's ideal for targeting entire neighborhoods near your location. Use it to:
Promote sales and events
Announce grand openings
Send coupons and special offers
What types of businesses use Every Door Direct Mail?
Retailers: Auto dealers, restaurants, furniture stores, supermarkets, sporting goods shops, department stores, electronics stores, and more.
Service-based businesses: Banks, home-improvement companies, insurance agencies, real estate firms, health-related providers, and more.
Is it for local or national mailings?
Because Every Door Direct Mail targets residences and businesses at the carrier route level, you can use it for smaller local mailings, regional initiatives, or large national campaigns. For example, a local pizzeria can use Every Door Direct Mail to send coupons to a surrounding neighborhood. Or a national retailer can target homes near a new store opening - or announce a special promotion at locations nationwide. For smaller mailings, we offer Every Door Direct Mail - Retail™. To learn about this option, visit usps.com/everydoordirectmail
What types of pieces can I mail?
Every Door Direct Mail is available with the following formats: Standard Mail© flats, irregular parcels, periodicals, and bound printed matter flats. This gives you a flexible range of options. You can do anything from a quick sales announcement to an in-depth product story. Plus, you can include coupons, maps, menus, event calendars, and more.