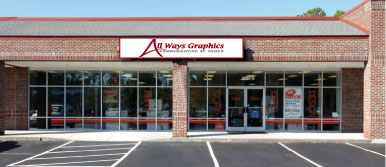 120 Racine Drive Unit 3
Wilmington, NC 28403
(Next to Kohl's Dept Store near Home Depot)
Hurricane Schedule
We will be monitoring Hurricane Dorian and updating our Facebook Page with any changes to our hours or news from All Ways Graphics.
Our schedule as it stands now:
OPEN Wednesday, Sept 4th, 7am to 5 pm
CLOSED Thursday and Friday.
Please call or visit our Facebook Page to learn of any changes to our schedule...
---
All Ways Graphics and Rapid Refill are next to Kohl's Department Store, near Home Depot at the intersection of Racine Drive and Eastwood Road.
---
REGULAR HOURS
Monday - Friday 7:00 AM to 7:00 PM
Closed on Saturday and Sunday
(Available by Appointment)
Exceptions to these hours will be announced on our Facebook page.
2019 HOLIDAY HOURS
January 1, 2019: CLOSED (Tue)
January 2, 2019: 9:00 AM - 5:00 PM (Wed)
May 27: Memorial Day CLOSED
July 4: Independence Day CLOSED
September 2: Labor Day CLOSED
November 27: 7:00 AM - 1:00 PM (Wed)
November 28: Thanksgiving CLOSED (Thu)
November 29: 9:00 AM - 5:00 PM (Fri)
December 24: Christmas Eve 7:00 AM - 1:00 PM (Tue)
December 25: Christmas CLOSED (Wed)
December 26: Boxing Day 9:00 AM - 5:00 PM (Thu)
December 31: New Year's Eve 7:00 AM - 1:00 PM (Tue)
January 1, 2020: New Year's Day CLOSED (Wed)
January 2, 2020: 9:00 AM - 5:00 PM (Thu)